This natural timber picture frame was chosen to enhance this photograph taken on a recent African safari vacation.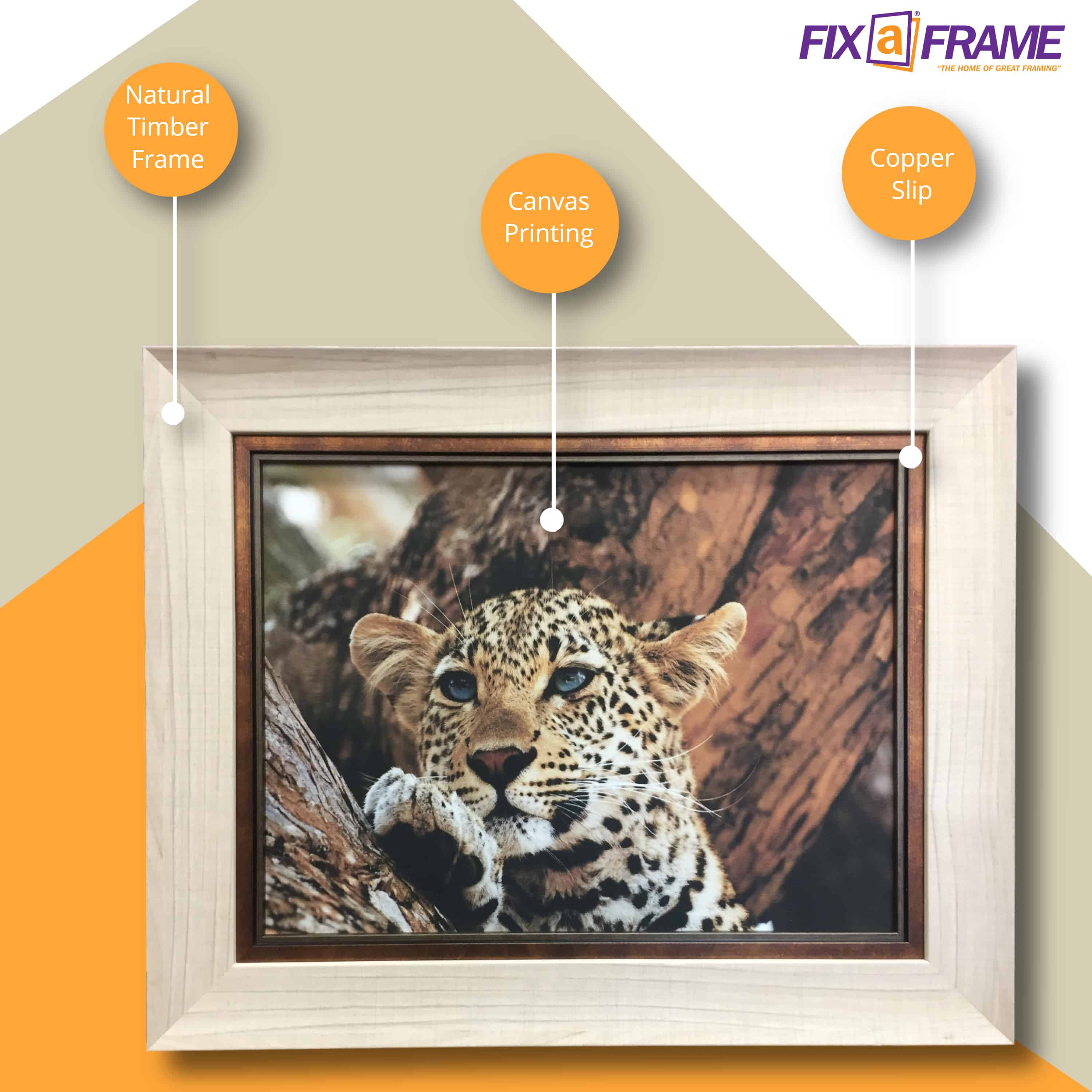 The fine white timber grain was offset by the inner slip in a metallic copper tone.

The copper tones worked well to bring out the contrast in the leopard. Copper and orange being the natural complimentary contrasting colour for blue also offset the unusual blue eyes of this cat.

Combining frames or "stacking"can be a good alternative when the use of a mat border is restricted.

A stacked picture frame is called a slip or a fillet.

Fillets or filet are sometimes used inside mat board openings to add a decorative edge or an additional space.

The framed leopard picture has a second internal frame that is used as the slip. 

The photo on canvas is stretched over 20mm thick stretcher bars. The thickness of the stretcher is one of the reasons why the inner copper frame was chosen as the border. The copper colour frame has a rebate depth of 15mm so only  small proportion of the stretched canvas protruded out the back of the frame rebate.
A good picture frame is one that enhances the artwork it contains and I like how the frame becomes part of the finished design without overpowering the image.

Raw timber frames can either be let raw and unfinished or they can be sealed with wax or varnish.

Leopards are so awe inspiring and it is great to hear the stories of customers who have returned from their holidays with fantastic photos.

Remembering a great holiday is one of the best rewards you can gift yourself.

It is one thing to browse through photos on your phone and a whole other experience when you have your memory captured in a picture frame.

When you have a picture worthy of displaying publicly make sure you get it framed at Fix-a-Frame.