Here is a great example of a slice of authentic sporting memorabilia. An original 1952 Eastern Suburbs District Rugby League jacket and the team photograph.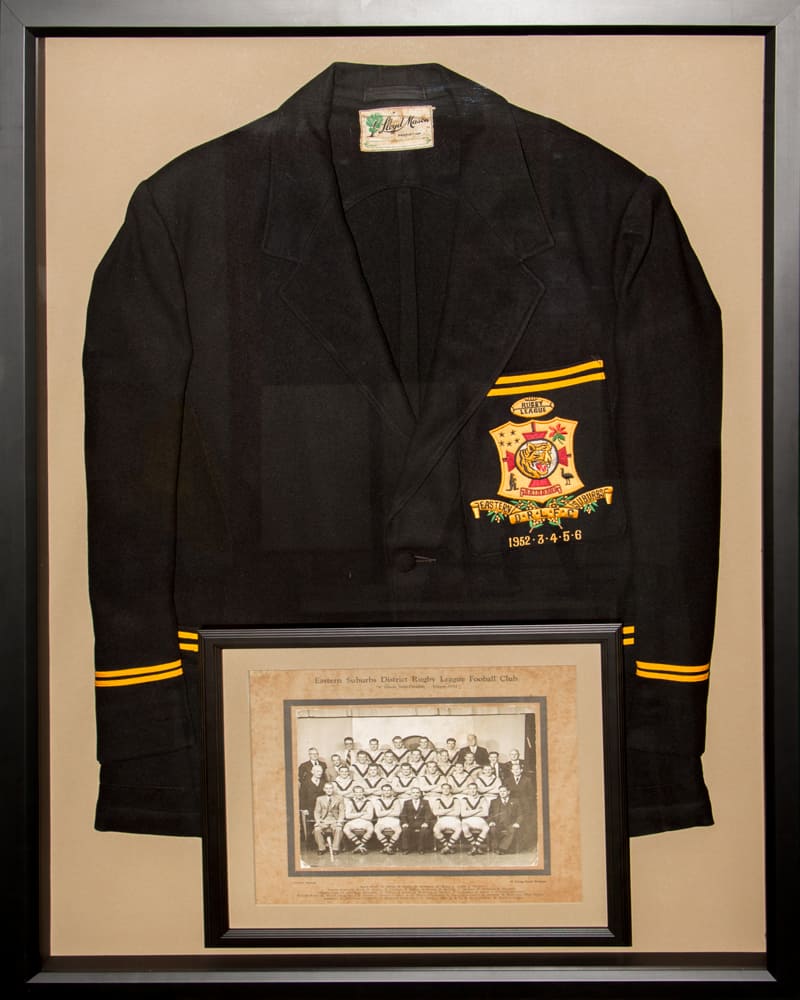 This jacket had been stuck away in an attic for the last 45 years and was only recently discovered by the owners when having a clear out. Some 50 years to the day after the rugby team jacket was worn it now has a new lease of life being presented in this simple shadowbox frame.
The jacket is fully support sewn onto a 100% rag mat backing in an antique tan colour. The colour was chosen to reflect the aged photograph that has been framed and enclosed with the jacket. There were some minor moth eaten holes in some areas of the coat but after it had been dry cleaned and pressed it was possible to conceal these holes by carefully mounting the fabric.
The photograph was framed with a small matting just to cover some damage that had occurred around the perimeter of the original backing board. The client decided to not have a modern photographic restoration done to the image but rather display it in original condition with the jacket. The framed photograph was held in position above the jacket by means of mounting blocks on the back that were fixed in place. This allowed the frame to sit up over the jacket without pressing on it in any way.
When deciding to frame these items the primary concern was conserving the jacket and preserving the colour and fabric for the next generation.
Conservation Glass with a UV filter was chosen and the mounting methods were all archival and reversible.
Adequate depth was provided by the 50mm deep box-frame and the jacket was spaced well back from the glazing. The design brief was to make it simple and concentrate on the protection of the jacket. We also had to match some modern jersey frames that the family were going to display close to this piece. The decision was taken to use the same plain black box with a beveled front lip that had been used on the other jerseys.